Astrology as Praxis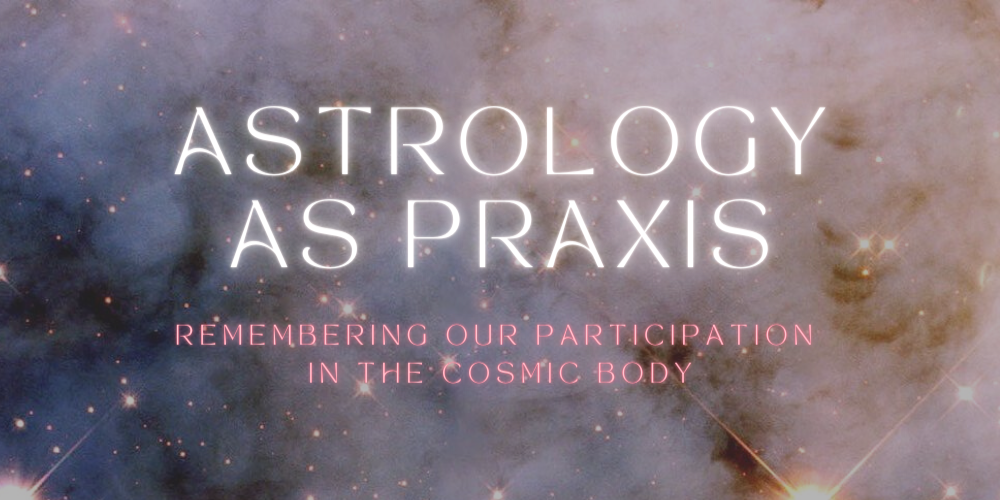 ASTROLOGY IS AN ANCIENT-FUTURE TECHNOLOGY FOR REMEMBRANCE, RETURNING US TO A STATE OF WONDER.
WHAT IF WE STOP LOOKING TO OUR NATAL CHARTS FOR ALL THE REASONS THAT WE'RE FUCKED UP, THAT WE DON'T BELONG, THAT WE NEED TO BE FIXED?
WHAT IF, INSTEAD, WE BEGIN CLAIMING OUR BIRTHRIGHT AS BELOVED CHILDREN OF THE COSMOS AND DEDICATED STEWARDS OF THE PLANETS?
WHAT IF WE STOP PRETENDING THAT OUR EXISTENCE DOES NOT, IN TURN, EXPAND THE NARRATIVES, RESTORE THE AGENCY, AND PROMOTE THE UNFOLDING OF THE COSMOS?
For many of us, the siren song of astrology called to us during a time of great need.
A broken dream. The end of a relationship. Losing a job. Resurfaced childhood trauma.
We came to astrology looking for answers. Who am I? What is my purpose? How can I justify my existence?
Deep down, we know that astrology holds great wisdom.
So we began devouring any and all we could find on astrology: Internet memes, podcasts, Astrology 101 books, YouTube videos. We even got readings from astrologers.
Our knowledge began growing. We began to grasp this imaginative symbolic language. And yet, something's still missing.
Our intellectual fluency didn't immediately translate to feeling closer to the heart of this wisdom. Our vigorous attempts to heal by studying every astrological transit didn't necessarily make us feel more sure of our place in the world.
How do we take on the seemingly impossible task of graduating from mere delineation of our astrological placements into a moment-by-moment instinctual, intuitive sense that we are, in fact, always walking with the planets?
ASTROLOGY AS PRAXIS is a year-long journey of dedicated learning, communal support, and emergent experiments facilitated by astrologer-mystics Britten LaRue and Jonathan Koe.
In this container, our hope is not to merely train and guide you into becoming professional astrologers.
We are mystics who honor the inner skeptic, academically-trained thinkers who celebrate the inner magician. We explicitly recognize that, contrary to our colonial education, all pathways to learning are valid. Our lived experience and intuitive knowing are as important to our studies as scholarly investigations.
To engage in praxis is to allow the living, breathing materials of our humanity and our lives to devour, to spit out, to investigate, and to digest ideas, concepts, philosophies, or ideologies. To engage in praxis is to acknowledge that mental engagement is necessary, but not sufficient.
Together, we dreamed a living curriculum to assist you in connecting to the wise and revolutionary spirit of astrology.
This curriculum is designed to initiate you begin living into the question of what it means to be an astrologer.
How you answer this question will be emergent and mutable. Your experience will be deeply personal. And the answer will hold the key to your participation in the greater cosmic body.
WHAT IF YOU INVITE YOUR JOYS, HEARTBREAKS, AND DREAMS TO TEACH YOU ASTROLOGY?
WHAT IF YOU ALLOW UNIQUE SIGNALS FROM YOUR PHYSICAL BODY TO INFORM HOW YOU INTERPRET NATAL CHARTS?
WHAT IF YOU LET YOUR INTELLECT PLAY WITH ASTROLOGY TO VISION & ARCHITECT NEW REALITIES OUTSIDE THIS COLONIAL PARADIGM?
WHAT IF ALL OF YOU GETS TO EXPERIENCE YOUR INHERENT BELONGING TO THE COSMIC BODY?
YOU ALREADY KNOW THIS LANGUAGE. YOUR WHOLE BEING REMEMBERS.
Astrology is a portal, not a destination. Your birth chart is a love letter from the planets, whispering secrets of sacred sites to explore.
And yet, astrology is not the journey itself. Astrology merely initiates our quests.
Quests of self-knowing. Quests for embodiment. Quests for healing. Quests for rhizomatic connections. Quests for wild creativity. Quests for unexpected alchemy. Quests for new ways of being that birth new worlds.
Emergent quests require us to cultivate a scholar's mind, a mystic's heart, and an artist's creativity.
We are creating a space for you to explore your own unique ways to learn while you unlearn, to heal while you process, to experiment, and to play.
As a symbolic language, astrology does not provide black and white answers. Astrology was never supposed to be a monolith.
Your unique lived experiences, positionality, intersection of identities, ancestry, and preferences are the lenses through which you will channel emergent astrological insights. We invite you to build your own relationship with astrology from the place of your messy, glorious, unruly humanity.
As two individuals with long backgrounds in Western colonial institutions of learning, we consider the following essential to our healing path and to the learning spaces we nurture:
to actively reprogram our relationship to knowledge
to expand what we consider valid ways of knowing
to make space for the messiness that comes with any good learning
to question the student-teacher dynamic
to presuppose our right to have a voice in this lineage
We created this course for our younger selves.
For fellow mystics and fellow nerds. For those who feel the insatiable desire to spend every waking moment learning more about astrology. For those who are drawn to astrology but worry that they may not know how to synthesize all the information together. For those who yearn communal support, but have never felt like they were able to find a supportive community.
REGISTRATION IS NOW CLOSED. PERIODICALLY, WE WILL BE OFFERING FREE MEETUPS FOR FOLKS INTERESTED IN THE NEXT ROUND. SIGN UP AT ANY BUTTONS ON THIS PAGE TO STAY TUNED FOR MORE INFORMATION ABOUT LEARNING ASTROLOGY WITH ME.

Our journey together will consist of two parts.
In Part 1, we will introduce the building blocks of astrology and build a solid foundation for astrological knowledge. As is the case with learning any language and system of knowledge, we must dedicate our time and attention to 'the basics.' We will answer questions such as: How does the system of astrology work? What are the different components? What are the basic keywords associated with each planets, signs, and houses? What are the houses, anyway? We will also lay a basic template to help you read charts. Part 1 lasts about 4 months.
Part 1 will also begin and end with a weekend intensive to lay the groundwork for our time together and to close the chapter together.
In Part 2, we will begin integrating, applying, composting, questioning, solidifying, and playing with the different concepts we learned in Part 1. Part 2 will be an exciting, emergent exploration of different 'ways in' to astrology. The curriculum will make space for ways to apply astrological knowledge into our personal and communal lives. The central question of Part 2 is: How can we embody the planets within our own unique internal and external ecosystems? Part 2 lasts about 8 months.
Between us (Britten and Jonathan), we have playfully considered different names for Part 1/Part 2: Learning/Un-Learning, System/Praxis, The Mind/The Heart, Theory/Play, Syntax/Conversation. You get the gist!
Our course materials will be housed on the Teachable platform. Everything will be downloadable and organized neatly for easy access via mobile or desktop.
LIVE MEETUPS
In Part 1, there will be one live lesson and one meetup per week.
Every Thursday at 6 pm EST, Britten and Jonathan will record a conversation on a foundational astrological topic. You are welcome to join us live and bring your observations, questions, or just hang with us! Your attendance is not required.
Every Tuesday at 4 pm EST for 75 minutes, all of us will meet as a group to discuss any findings, to share a-ha moments based on the week's reflections, and to further our communal understanding of the building blocks of astrology.
In between the two meetups, we will pair you with a classmate to compare notes, to cultivate connection outside of class times, and to learn from another person's chart and experiences – which often mirrors ourselves back to us in unexpected, delightful ways. This can happen live or asynchronously and through whatever channel works for your life: text, voice message, zoom, DM, email, telepathically. Whatever works.
In part 2, we will dedicate each month towards a juicy topic (see curriculum below for more details).
The structure of the monthly meetups are as such (days/times will shift depending on the needs of the group):
Week 1: Britten and Jonathan will record a conversation on each topic. Each monthly theme will serve as portals for our playful explorations. We will also leave you with exercises for praxis.
Weeks 2 & 3: We will have 1-2 meetups per week to facilitate with integrating the topics. Some meetups may focus on reading each other's charts as a community, meditation / ritual to assist you with attuning to the planetary energies, and discussions of rising signs using chart examples from members of our communities and/or famous people. Britten, Jonathan, and our teaching assistants will take turns leading these meetups. We may also invite guest teachers from our community of brilliant fellow astrologers and magical humans to assist you in further expanding your perspective.
Week 4: The whole group will meet again to process our individual and communal exploration of the particular portal. Jonathan and Britten will close out with some reflections.
Each month, we will pair you with 1-2 other classmates so you can continue practice reading charts together, develop questions and musings, and share resources. You are welcome to pair more often if you're up for it. Some of you won't have capacity, and some of you will crave the rhythm of doing it weekly.
VIRTUAL COMMUNITY SPACE
We will have a dedicated virtual chat space to have conversations, share stories and anecdotes, give each other resources for deeper learning, ask questions, and enjoy one another.
For many, it will become a truly anchoring part of the experience because you will feel a desire to talk through and get into the material with each other. You may also wish to be witnessed in your process. Plus, it will be fun to hang out there!
We plan to use Slack to host our virtual space. If you've never used Slack before, you will soon find that it's very easy to navigate.
The Slack space is totally optional, and you won't be missing out if you decide not to participate.
SIGN UP HERE FOR THE WAITING LIST
SYLLABUS – CHRYSALIS
PART 1
Saturday 09.10.22 | Sunday 09.11.22: OPENING WEEKEND
THE PLANETS
Thursday 09.15.22 | Tuesday 09.20.22: THE LUMINARIES & SATURN
Thursday 09.22.22 | Tuesday 09.27.22: MERCURY & JUPITER
Thursday 09.29.22 | Tuesday 10.04.22: MARS & VENUS
Thursday 10.06.22 | Tuesday 10.11.22: OUTER PLANETS
THE SIGNS
Thursday 10.13.22 | Tuesday 10.18.22: FIRE & AIR SIGNS
Thursday 10.20.22 | Tuesday 10.25.22: WATER & EARTH SIGNS
THE HOUSES
Thursday 10.27.22 | Tuesday 11.01.22: ANGULAR HOUSES (1H, 4H, 7H, 10H)
Thursday 11.03.22 | Tuesday 11.08.22: SUCCEDENT HOUSES (2H, 5H, 8H, 11H)
Thursday 11.10.22 | Tuesday 11.15.22: CADENT HOUSES (3H, 6H, 9H, 12H)
BEYOND THE BASICS
Thursday 11.17.22 | Tuesday 11.22.22: ASPECTS
Thursday 11.24.22: LUNAR NODES
Thursday 12.01.22 | Tuesday 12.06.22: ASTEROIDS
Saturday 12.10.22 | Sunday 12.11.22: SYNTHESIS – TRANSITS & CHART READING TECHNIQUES
PART 2
January 2023: EARTH – ASTROLOGY AS EMBODIMENT PRACTICE
February 2023: WATER – ASTROLOGY AS HEALING PRACTICE
March 2023: AIR – ASTROLOGY AS INTELLECTUAL PRACTICE
April 2023: FIRE – ASTROLOGY AS CREATIVE PRACTICE
May 2023: FIRE – ASTROLOGY AS ALCHEMICAL PRACTICE
June 2023: AIR – ASTROLOGY AS TRICKSTER PRACTICE
July 2023: WATER – ASTROLOGY AS ANCESTRAL PRACTICE
August 2023: EARTH – ASTROLOGY AS INTEGRATION PRACTICE
ABOUT YOUR FACILITATORS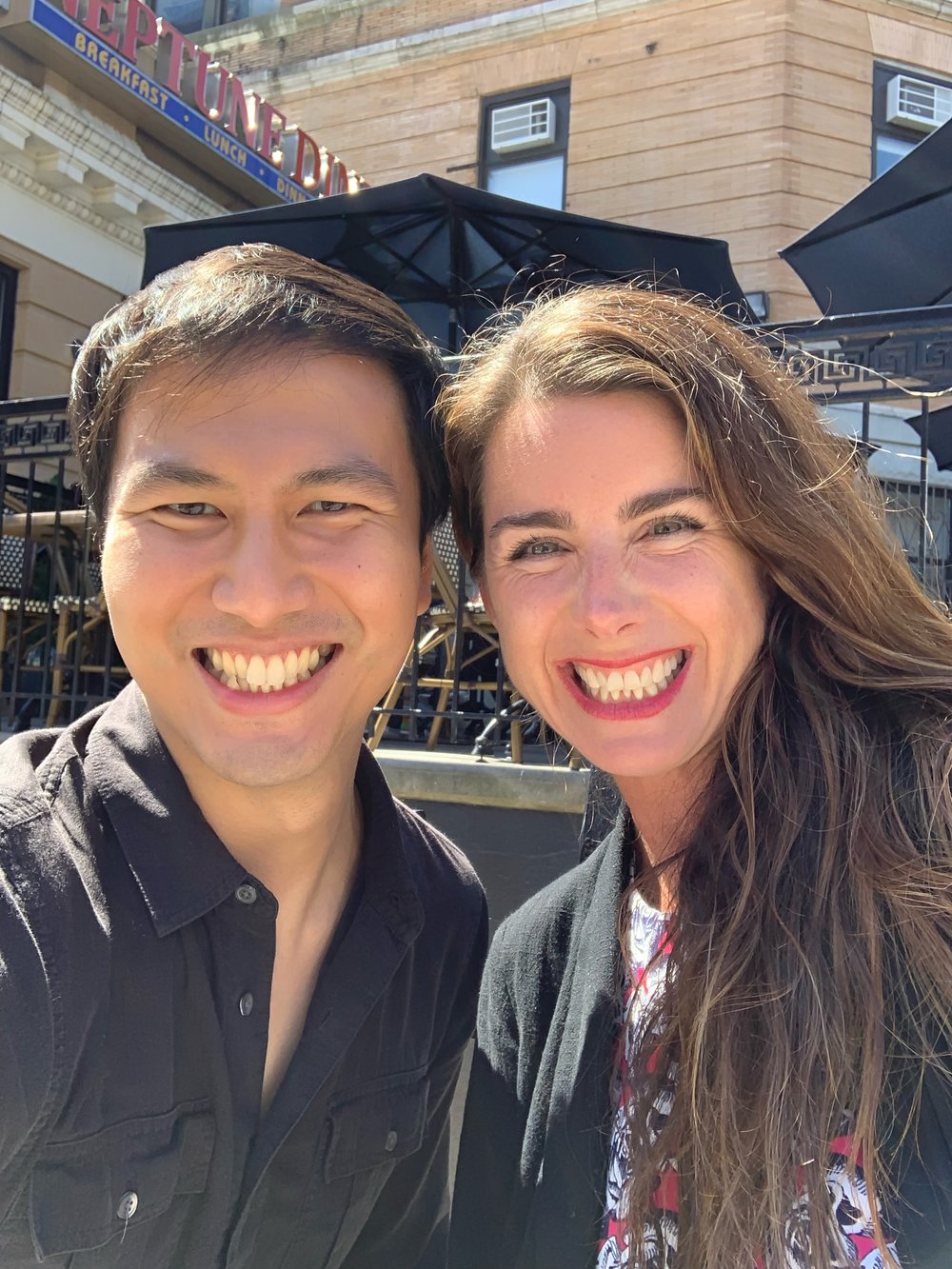 Britten & Jonathan met thanks to the mysterious magic of Google. Jonathan was looking for their first astrology reading, and Britten's name popped up. To their sweet surprise, the two discovered they have the same birthday (March 4) which is 13 degrees of Pisces! Jonathan became not only a regular client, but a committed student in all of Britten's first stable of teachings, including her first year-long astrological learning container titled Charting Your Course.
The two had an instant rapport and mutual admiration. Britten's Jupiter in Gemini plays with Jonathan's Gemini Moon; they have so much fun talking and expanding on ideas. They simply bring out the brilliance in the other. They also share important Capricornian traits and placements, with their shared respect for time, structure, and firm boundaries. The heart of their friendship is pure Piscean love, which they know comes from many lifetimes of care and experience together, and which they infuse through the spaces they hold.
Over time, Britten began inviting Jonathan to support her as an assistant teacher and then as co-facilitator for workshops and, most notably, for last year's Charting Your Course. Britten has become Jonathan's client, just as Jonathan continues to be hers. With great excitement, they realized this year that they wanted to compost CYC and co-create an entirely new astrological learning experience, which is Astrology as Praxis.
If you're not familiar with our rapport, please check out the episodes we're co-hosting and sharing on our personal podcasts Moon to Moon (Britten) and Healing the Spirit (Jonathan) across the promo window for the course.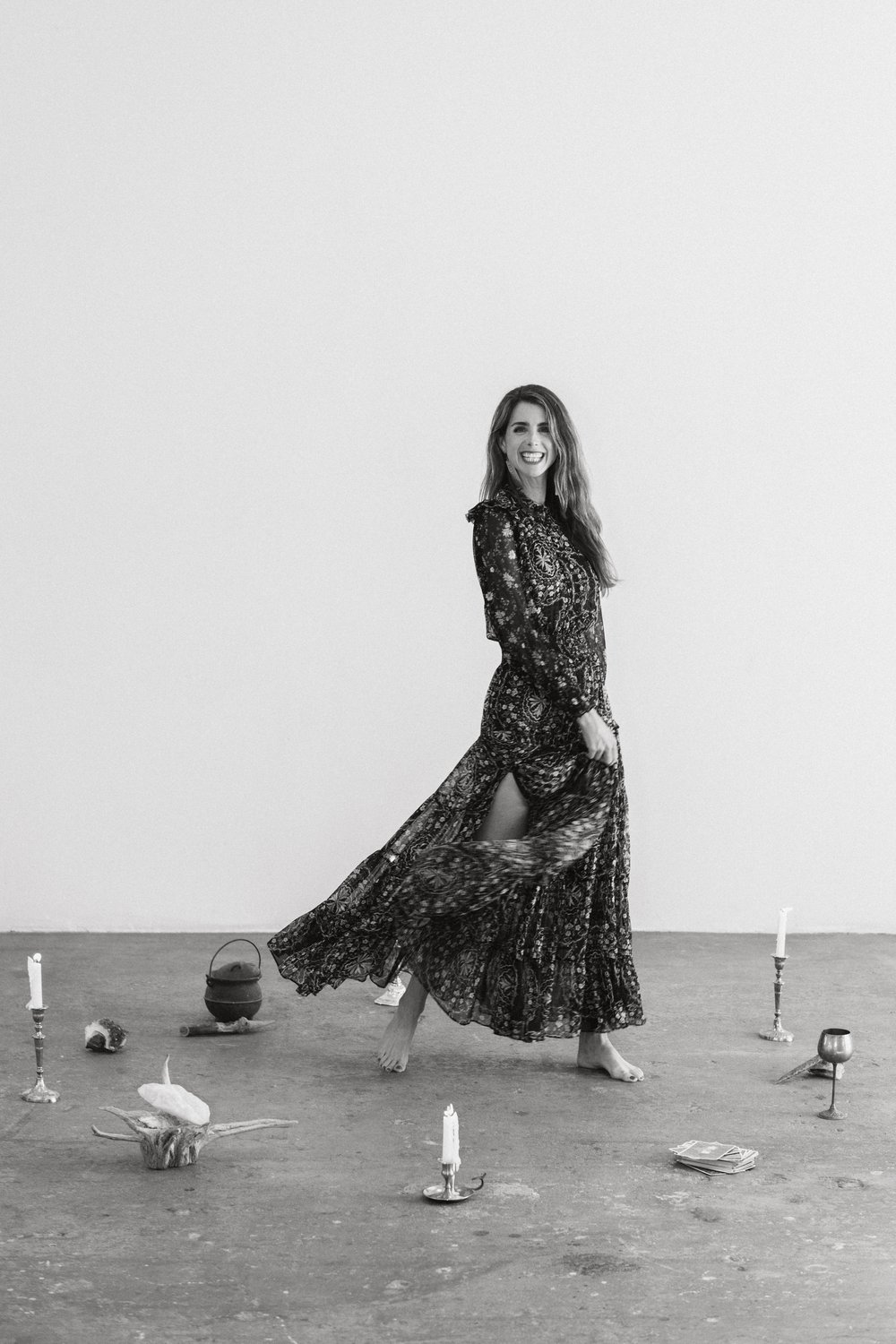 About Britten LaRue (she / her): Despite a deep love of scholarship, Britten left behind a doctoral track in art history after hearing the moon call to her. Following a long season of apprenticeship under the teachings of the lunar cycle during a time of great change, Britten emerged into a new life as a public astrologer, an author, a teacher, and an intuitive guide.
Born a student-teacher with The Hierophant as her life card, Britten is known for describing the complicated ancient art of astrology in ways that feel profoundly heart-opening, transformative, and inspiring. Britten is a deeply Piscean human being, which comes through in the expansive frequency of the spaces she caretakes. Her Watery nature is supported by the devoted commitment to structure of her Capricorn Moon and the zesty bravado of her Aries Rising.
Britten calls what she does Emergence Astrology. The name Emergence Astrology centers her primary interest in the discipline: attuning to what is emerging in and for and through us so we can live and trust with more wild aliveness and embodied magic. In everything, Britten sees her role as a steward to the offerings that want to move through her. Her job is to lovingly hold the space in service to the magic that wants to find form.
A 3/5 Emotional Manifesting Generator, Britten is a magician with words and is known for her "framework magic" such as Living the Signs, Moon to Moon, Intentions as Sentient Beings, the Emergent No, Vulture Magic, "Feeling more means feeling more," "It's it's not resonant, it's not fucking resonant," humpability, chartless astrology, "Abundance begins with No," "field research for yourself," and many more keywords and sayings that become inside lingo in her client-student-mentee community.
Britten lives on the seized ancestral home of a variety of Indigenous Peoples including the Caddo, Wichita, and Comanche, now known as Dallas, TX. An INFJ and 12th House person who unashamedly needs a lot of quiet "cave time," she balances her bustling career with a devoted journaling practice, neighborhood runs, meditation with those she refers to as "they who give me guidance," simple and complicated tarot pulls, and cooking fried eggs for rice bowls. She gives and receives love abundantly with her two teenage daughters (a Scorpio and a Taurus), the man she's crossed lifetimes to meet again (a fellow Pisces), and a golden-collie named Buddy.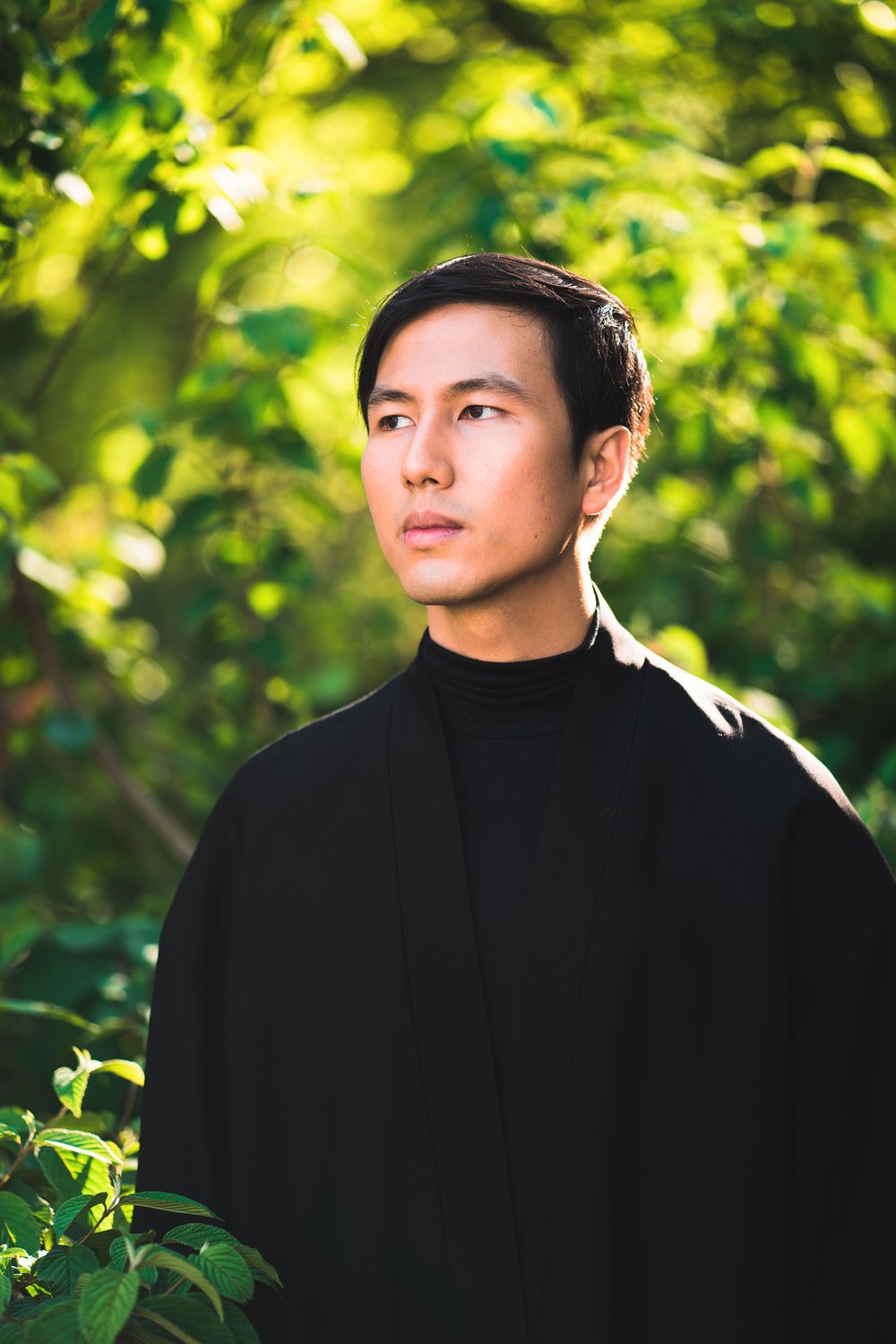 Jonathan Koe (they / he) is a queer mystic who's fluent in the languages of music, astrology, tarot, energy work, statistics, and the Akashic perspective. Their work aims to empower others through compassionate discernment, to nurture communities of passionate seekers, and to expand our sense of interconnectedness beyond the collective myths of binary-thinking and not-enoughness.
At the heart of Jonathan's work as a healing artist is the desire to continually develop, transform, and question the ways we describe and enchant our internal and relational realities. Jonathan recognizes that profound, lasting transformation through studying astrology requires Saturnian time, Lunar care, and Venusian reciprocity. It's Jonathan's hope and commitment to provide ASTROLOGY AS PRAXIS participants with the support, tools, framework, and practices to build their own relationship with astrology over time.
True to their chart ruler, Mercury, Jonathan has lived within and in-between many identities. The overachieving student, the classical musician, the singer songwriter, the actuary, the mystic. Growing up in Jakarta, Jonathan (like many of us) was told to sit down, be nice, and pick one path (which never really worked). And that's what they tried to do miserably, until astrology (via Julia Cameron's The Artist's Way) mysteriously came into their life during their first Saturn's Return.
Since then, Jonathan's hunger for astrology has been insatiable. Jonathan has studied with Sabrina Monarch, Diana Rose Harper, and Chris Brennan, and is deeply influenced by the works of Demetra George, Alice Sparkly Kat, Mark Jones, Richard Tarnas, and Renee Sills.
Jonathan currently lives and works in unceded, occupied Lenape land (currently called Brooklyn, New York). Jonathan is a 3/5 Generator and an ENFJ. In their spare time, Jonathan enjoys going on long walks, bingeing TV shows, and exploring various meditation techniques as portals to connecting with the pluriverse.
MEET THE COMMUNITY SUPPORT TEAM
This year we are so lucky to have TWO additional space holders: Nicole and Jaclyn. Both Jaclyn and Nicole have participated in at least two of the containers I've held, either solo or alongside Jonathan.
We felt called to invite them to join us because – first – we trust them to be humans of integrity, wit, magic, and wisdom, and also because each works with astrology in ways that grow unashamedly from their whole person. The Astrology as Praxis community is going to be feel so deeply resourced having Nicole and Jaclyn with us!!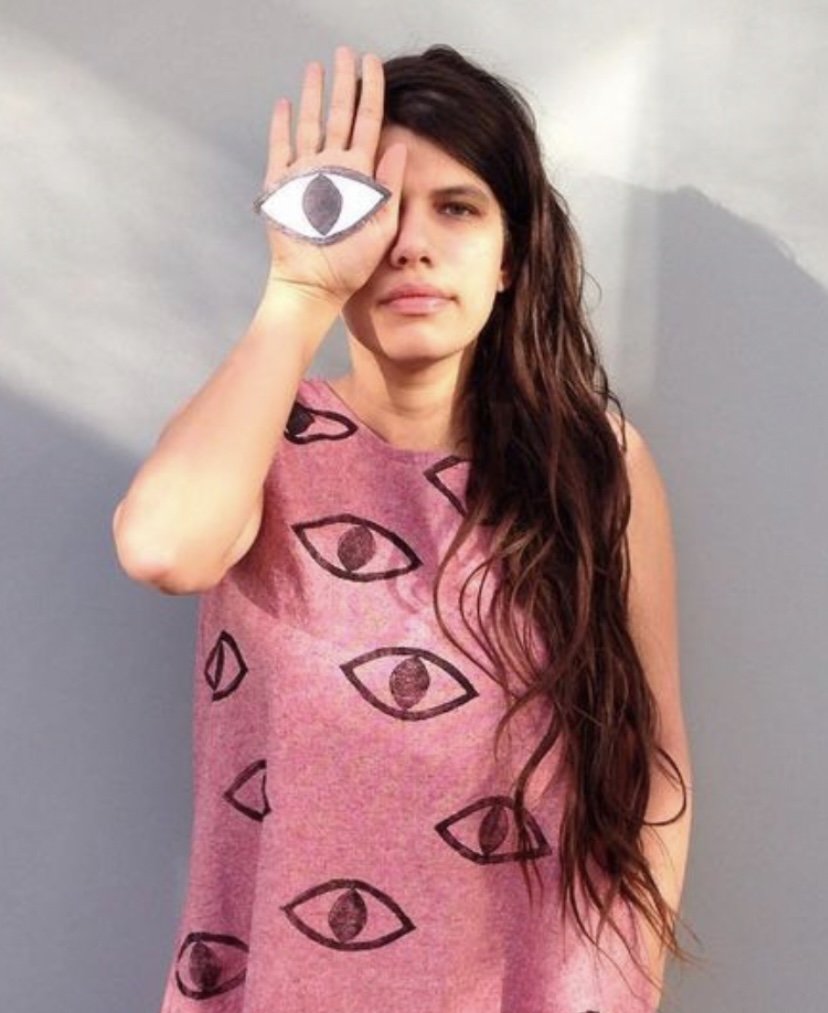 Nicole Providence France-Coe (she/they) is a devotee to Great Mystery and all Its beauty, pleasure, liminality, and dismantling power. She is more at home in the Unknown than the Binary and the Static. Being born onto Earth as a mixed race, gender non-conforming, neurodivergent human has provided the blood and bone blueprint for learning how to dance in the cracks. Nicole relates deeply to the archetypal energy of the Trickster as well as the High Priestess and delights in wedding these two energies in her body and through her oracular offerings.
This fall, with her partner Dicky, they will be launching their business website, The Lion & the Lute. This space will hold their offerings in service to ancestral healing, oracular arts, handmade goods and flower essences.
In the meantime, you can reach Nicole at nicoleprovidence@gmail.com or IG @nicolefrancecoe.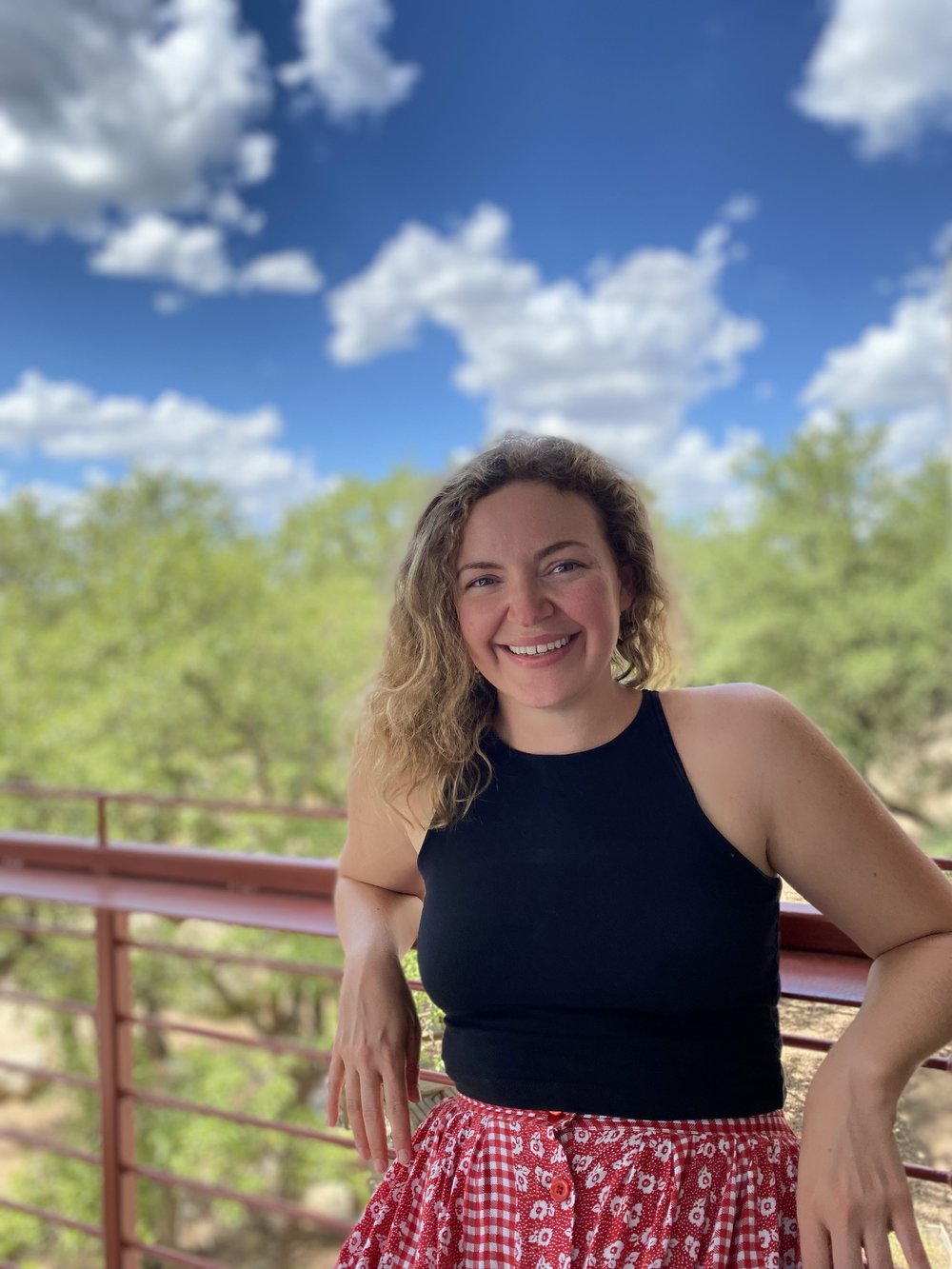 Jaclyn Skeans (she/her) is an avid list maker (Virgo Rising), lover of all things magical (Pisces Sun), and always curious about how you're really doing (Scorpio Moon). Cultivating a more intimate relationship with astrology and the planets has been an ever evolving gift, one that currently has Jaclyn creating a life that inspires and excites her.
In the real world you'll most likely find Jaclyn out on meandering walks with her dog, sitting in the sun, or in her sewing studio creating Astro Hoops- custom, textile creations that turn your natal chart into tangible art.
Follow her @thePeachBungalow or at www.thePeachBungalow.com
TESTIMONIALS
"The alchemy between Britten and Jonathon is that which not only exists between them, but also trickles down into your very own beating heart. They seem like chosen family to each other and thus create a sense of family in the groups they constellate together. And when doing the deep exploring they offer, having family around really matters. They are playful and bold; they generate a wellspring of laughter while also holding a tender container. Learning astrology with them and through them catapulted me on my own journey wherein I found my own astrology voice, which is a crucial hallmark of any one holding the seat of teacher – they lead you to cultivate your own way. I feel immense gratitude for their wise depths and infinite star-gazing."
Audra Duke, Psychotherapist
"Saying yes to learning Astrology with Britten and Jonathan has been one of the greatest blessings of my life. They create a dynamic space for co-learning and activating your own internal compass, which is the true guide of any experience you embark on. They remind you of the tools that you already possess and inspire you to call back those that you may have lost along the way. I always felt like I was the driving force of my learning experience, charting through my own waters but with an amazing team of sailors. Learning from them is a communal experience, a horizontal approach without gurus, without masters where questions and questioning are welcomed. If you are looking for a learning space where you can be a co-creator and dream weaver with fellow chill humans then this is the one."
"If you are looking to be enchanted, join a group led by Britten and Jonathan. Their energies captivate the group and inspire personal growth while also providing a safe environment to experiment with the learnings. And it's hard to adequately describe the other participants: they are quick-witted, gifted, and incredibly willing to share resources; it's truly a dynamic like any other I've experienced. Be prepared for an amazing adventure!"
Bridget S, devoted Britten and Jonathan groupie 🙂
"Britten and Jonathan bring a certain kind of magic to spaces that are hard to put into words. They have a gentle way of opening up portals within you that you'd nailed shut a long time ago and haven't dared to look at since. The way in is the beautiful language of astrology that both Britten and Jonathan are fluent in, but not in your textbook kind of way. Rather, this is learning the language of astrology through your personal embodiment with Britten and Jonathan as co-travellers."
"If it feels resonant, and you have an emerging YES, I highly recommend committing to participating in one of Britten and Jonathan's containersI have found that Britten and Jonathan both magnetize a loving crew of people who enjoy going deep and also still find moments for laughter and celebrating one another. Their combined wisdom and character allow for insightful spaces, full of co-learning, while decentralizing themselves, thus focusing on the experience and empowering participants. I am grateful to have formed lifelong friendships through their magically constellated communities, in large part because I have been encouraged to be unapologetically myself."
"Britten and Jonathan are both masters at holding space. Their energetic containers always feel safe, intentional, and caring, so that you can stay present in your body and explore your experiences through the lens of astrology. Being witnessed in this process by your classmates and doing so for others is where I experienced the magic of astrology as a communal practice. I'm so thankful to both Britten and Jonathan for the healing they alchemized in their work together!"
"Working with Britten and Jonathan has (not to be dramatic) changed my life. Their approach to, and love/respect for astrology is I think unique and helpful in so many ways, but the ones that I can't stop thinking about and want to talk to all of my friends about. I started out not knowing anything about astrology and after a year of working with them know enough to be able to be able to talk about it in casual conversation. My original intention in working with them in my first class was to help me find my place in the universe and it has helped with that and so much more- I feel connected with the universe and supported by it so much that it feels strange to call it 'It.'"
"Britten and Jonathan are a brilliant pair of astrology mentors. Each has their own distinctive style, but both bring intelligence, passion, and a sense of wonder to their offerings. If you choose to gravitate toward what this dynamic duo has prepared for you, you will be rewarded with increased intuitive insight and emotional clarity. Gravitate their way, and prepare to be transformed."
"Learning with Britten and Jonathan is an invitation to sense astrology in the body. It is a collective experience of being welcomed into a warm space where we grow as we go with joy and laughter. The world is a better place with them in it."
"It is incredibly grounding to experience a course co-led by Britten and Jonathan and to connect to the students they attract. They bring profound respect for everyone, curiosity, openness and delightful laughter to the space. And they both masterfully embody what they communicate, whether with words, silence, breath or presence. Their approach helped me to practice "intuitive listening" to receive what I most needed from the teachings and to more deeply embody my own words, thoughts and life."
JOIN THE WAITLIST FOR THE NEXT ITERATION
DEEPER DIVES
As part of our process in magnetizing and enchanting those who resonate with this offering, we have been recording a series of rich conversations that you may want to check out. We welcome you to check out these conversations to feel into whether our approach and this container resonates with you.
Also in Instagram we have been doing a series of IG Lives on Astrology as _______ Practice to tease out our thesis. How can astrology infuse the practices we already care about in our daily lives? Each of these corresponds to a month of Part 2 in Astrology as Praxis (January through August). Check out the replays at my Instagram for the following topics:
Astrology as Embodiment Practice
Astrology as Healing Practice
Astrology as Intellectual Practice
Astrology as Creative Practice
Astrology as Alchemical Practice
Astrology as Trickster Practice
Astrology as Ancestral Practice
Astrology as Integration Practice
We will not be repeating the same information in different places so if you're into Astrology as Praxis as an idea or as a experience, you will enjoy having access to all the channels. However, you don't need it all. We're just setting out different bites for you to try out and what matters is not so much the information we're conveying as much as the vibe you're tuning into.
To experience Jonathan and me as co-facilitators of a learning space, check out our free webinar: Astrology as Collaborative Practice.
We also have two free workshops from 2021: Living the F**k Out of Your Chart or New Sight: A Webinar on Eclipses. We also have a couple of workshops you can purchase: Neptune Vibes: A Masterclass on Attuning to Pisces and The Magician's Table: Elemental Tools for Your Magic.